With AVB and the Spurs first team squad in Hong Kong for the Barclays Trophy (first game sees Spurs come up against Paolo Di Canio's Sunderland on Wednesday morning), the whereabouts of Tottenham's Technical Director has come into the spot light.
ITK has suggested he was in Spain.
As it appears, late last night, there was hard evidence to prove he was there...
Baldini in Spain...apparently with the President of Valencia
The guy behind the lens says Baldini was with the President of Valencia. This would tie up with the ITK that Spurs are interested in Spain international centre-foward Roberto Soldado. Obviously the ITK stuff needs to be taken with a huge sack-load of salt too but after missing out on Villa and Benteke, it is plainly obvious for all to see that Spurs need to make their move shortly.
Whilst in Hong Kong, AVB has confirmed Spurs' interest in Soldado...
"At the moment, he's just one of the players we are interested in...
It's not a lie to anybody that we've been looking for a striker to strengthen our squad and to have more strength in depth...
Roberto is one of the players we have been following and his career speaks for itself. He's a great striker...
But there isn't a deal being struck at the moment, it's just interest and conversations..."
So "conversations" pretty much confirm talks are in progress and the picture above.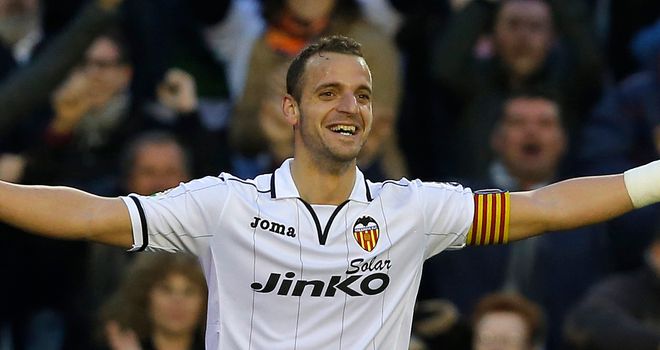 Roberto Soldado...heading to WHL?
It is common knowledge that Valencia have huge financial problems at the moment and we all know that Levy does like to take advantage of a deal. It is also common knowledge that Soldado has a €30m (£25.8m) buy out clause so Spurs would need to smash their transfer record, the sum of £17m which was paid for Brazilian international Paulinho only a few weeks ago.
The one alarm bell for this deal would be the fact that he is 28. That rather goes against the grain of Levy's transfer policy of bringing in young players with a potential sell on value. If Soldado signed a 4-5 year contract, that would take him to 32-33, the potential twilight of his career. There is no way Spurs could ever recoup the £25.8m buy out clause but of course, it could be argued that if he scores 20+ goals in a season, it would put Spurs in a very good position for qualifying for the Champions League and could be seen as an astute investment.
Soldado's scoring record makes for interesting reading...
Soldado scoring record (Source: Wikipedia)
In the last 4 seasons he has scored 20, 25, 27 and 30 goals. Thats impressive.
I have to say I personally dont know much about Soldado. I think I'll do some research on You Tube very shortly. However, first impressions are Soldado could be exactly what Spurs are looking for. The key question for me is whether Levy is willing to meet the buy-out clause.