Time for me to open my trap about the Bale saga.
I've resisted temptation so far because quite frankly, I could have written a dissertation, a War & Peace-length epic about my thoughts on the subject.
As I've said time and time again, Spurs is run well by Levy and I trust Levy implicitly.
Let me be honest for a moment here. Bale isnt worth what Real Madrid will end up paying for him. I would have snapped your hand off the the £40-50m which was quoted for him at the end of last season. Bale was world-class for the last six months. Before that, was he? No. In my opinion he's still far too inconsistent. He still spends a lot of time on the periphery of games, unlike Ronaldo and Messi. He is nowhere near that standard, yet.
Therefore, as I've said before, Bale could go with my blessing as long as (i) Levy got the fee he wanted and (ii) that fee was used to get in replacements before and not after Bale was sold.
As it turns out, Levy has managed to bring in the likes of Chadli, Paulinho, Soldado and Capoue so it is business well done so far with maybe the likes of Lamela and Erikksen to come. If selling Bale financed 5-6 players with potential later sell-on values coming in, then it is very good business indeed.
There is no sticking point here. Bale has three years left of his contract. The offer of a new contract was on the table to make him the highest earner in history at White Hart Lane but he chose not to sign it. So there is absolutely no doubt that he was either going to be sold now or at the end of this season, otherwise Spurs would be sitting on another potential "Bosman", whereby he would be free to walk away at the end of his contract and Spurs wouldnt be entitled to a transfer fee.
So it was all down to Levy to squeeze every last penny out of Real Madrid. It shouldnt go unnoted that Madrid still owe Levy & Spurs to the tune of £20m for the transfer of Luka Modric. Had Bale been not for sale, the club would have made a statement.
Real Madrid have previous for the way they encourage their transfer targets to behave. You only have to look at the Modric transfer for proof.
Real Madrid have been antagonising Levy with a presentation stage being built at the Bernebau, Bale shirts being sold in their club shops. They've kept plugging away until Levy has snapped.
Spurs would have asked Bale to keep a dignified silence through the transfer dealings this summer otherwise it would potentially jeopardise Levy's negotiating position. Until today, he has kept his side of the bargain. Until today.
This morning, an unofficial statement leaked to SSN via his agent via Jim White, indicating that he had no intention of returning to the Tottenham training ground. He has affection for the club and especially the fans but he hopes they understand his position. Various reports indicated he had missed training for a second day and now AVB has confirmed that he has taken "unauthorised" leave from training.
So there we have it. Bale is on strike to get his transfer.
Well Mr Bale, I've kept quiet until now. For the squeaky-clean "Brand Bale" image you're trying to create, for all that love you feel for Spurs and "especially the fans", by going on strike, you've basically stuck your middle finger up at THFC and the fans that have paid your wages. A very sour note for you to end your career at Spurs, dont you think?

You've shown a total disrepect to the club, to AVB and to the fans. I'm just so disappointed with you. No one was going to begrudge you a world-record transfer to Madrid but this makes you no better than Modric or Berbatov. A sulky footballer not getting what they want. Fair play to you, you've served Spurs well but I'll give you two seasons in Spain at the most before you fail and end up back in the Premier League. You're not in the same class as Messi and Ronaldo and you never will be. By the way, whoever told you that pink t-shirt and baseball cap was a good look? I'd consider sacking them if I were you. But then again, if I were you, I'd be happy staying at Spurs playing for the team I love.
If Spurs wasnt run like a business and money didnt talk, I'd love to see Levy stick by his guns, refuse to sell you to Madrid and let you rot in the reserves. Petchulant little f*cker.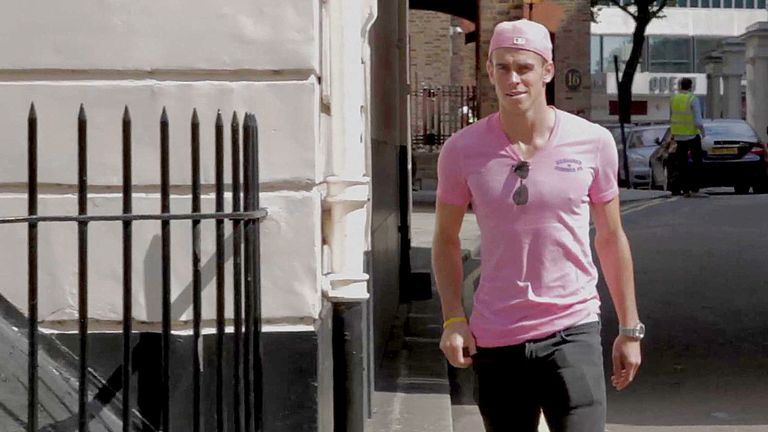 Bale...soon to be the only Welshman in Madrid.