What with my late run on Saturday evening, the plan was to have a lay in, get some housework done and then put the feet up and watch the football on the TV before meeting up with my mate Rich W later in the day for the Sunday 9 o'clock club.
Originally I was booked on a Leadership in Running Coach course in Sevenoaks but ended up having to swap to a course later in the year, more on that in the upcoming months.
So much for the lay in. Wide awake at 7:30am. Not good.
By 9:30am, I'd already had breakfast, showered, caught up with what I needed to admin-wise so made a start with the housework. By 12 noon, I'd pretty much done my flat from top to bottom and it was looking good. I hate housework but there's nothing quite like looking at your house/flat once the housework is done. Such satisfaction. Not like running a long run or anything like that but you know where I'm coming from. You feel cleansed. Tidy house, tidy mind and all that.
Anyhow, I put some soup on and made a sandwich.

As I was eating and watching the end of the Sunday Supplement on Sky Sports 1, my phone bleeped. It was my mate Nav.
"Bored? Missing Izzy? Want to watch Spurs? I've got a spare..."
Just at that point, Sky had just advertised the afternoon TV game. Villa v Norwich. Jeez, assuming all the games were kicking off at 4:30pm today because of the COC Final (Capital One Cup for those of you thinking I'm being rude!), I'd automatically assumed that it would be the Spurs game on.
There was no other thing for it.
Within 45 mins, I was on the train from Welling to Cannon St. A quick walk to Liverpool St and jumped on the first train to Hertford East, stopping at Seven Sisters and White Hart Lane. When I text Nav to say I was on my way back out of London, he said he'd met his friend in a pub called the "Elbow Room" at Bruce Grove, smack bang between Seven Sisters and WHL, on the Tottenham High Road. Typically, the train wasnt going to stop at Bruce Grove, so I made my way up the High Road from Seven Sisters.
I think it would have made more sense for the pub to be called "Not even Elbow Room to move". It was rammed. As are most of the pubs around WHL on match day. Met Nav and his mate, we watched the end of the COC Final then walked down to WHL.
We got in the ground just as we'd kicked off. For some reason these days, which I wont go into here, the atmosphere at WHL is flat. The expectation levels have increased in recent years, the pressure of top 4 qualification has increase, the Police/FA stance on the usage of the "Y-word" which I'm not going to go into here, all of which has had a major impact on the atmosphere. Also, most importantly, the football has got a lot to do with it too. Does Sherwood know his best side yet? I'm not convinced nor is anyone else. Ok, his hands are tied by the current injury list but this has to go down as one of the worst games of football I've seen at the Lane in well over a decade. It really was that bad. I can count on one hand the number of saves both keepers had to make.
Thankfully, the one effort that did count was from dear old Bobby Soldado, our mis-firing £26.5m centre-forward who hasnt been able to hit the back end of a donkey with a banjo in recent times.
He took his goal excellently in front of the adoring Park Lane end. Adebayor played it into him, he took one touch to kill it and set himself then in the same movement, he flicked the ball beyond the reach of the 'keeper.
The look on his face said it all...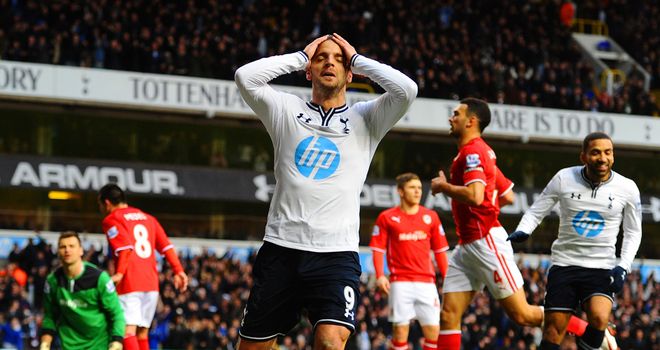 ...the relief. He'd finally scored a goal from open play in the league for the first time since Boxing Day.
Dear old Bobby. His attitude speaks for itself and a lot of pro's can learn a lot from him in terms of attitude and application. If anyone deserved a goal, it was him. He's been working his socks off for the team and was getting little reward for his efforts.
He ran to the Park Lane to celebrate and the fans went pretty mental, the only occasion in the 90 mins where the atmosphere lived up a little.
Not a great performance but the 1-0 win keeps Spurs in touch with the top 4. With Chelsea, Arsenal, Southampton and Liverpool to come in March, we're quickly reaching the business end of the season. If we're still in touch after the next 4 league games then we could be in business again :)
Cheers for the ticket btw Nav!
After the game, we made our way back to Welling and I headed straight for the 9 o'clock club with Rich. It was a good day.