I try to keep my blog football-free these days but something is beginning to bug me and it needs to be addressed.
How do you solve a problem like Tottenham Hotspur?
I've supported Spurs now for the best part of three decades. In that 30 years, never have I felt so unmotivated about my Spurs. I've blogged before that my relationship with Spurs is like a loveless marriage. Been there, done that for real of course but it really feels like it, I dont love Spurs, Spurs dont love me yet we're stuck with each other.
I wont beat around the bush. The football of the last two-to-three seasons has been beyond dire. It really has. The stunning form of Gareth Bale in the second half of the 2012/13 season kept us interested and papered over a lot of cracks which have existed since the days of Redknapp. Teams would come to White Hart Lane, sit ten men behind the ball and play on the break and would allow Spurs the time and space to try and break them down. Most will agree that Spurs look good on the eye at times but for all the possession, there was no cutting edge (Bale aside of course!)
To this day, Spurs have had this problem for the best part of four seasons now. Plenty of posession but more and more teams would come to the Lane and shut up shop. They know that if they can keep it tight for the first twenty minutes, then they'll be in with a real shout as the once vocal support goes very quiet.
The days of the deafening vocal support has long gone. My last visit to the lane, a 1-0 victory over Cardiff last season was a real eye-opener and so typical of what I have described. A tight affair and next to little support from the crowd.
Various Spurs forums and message boards have picked up on these issues and questioned who is to blame.
Spurs have been through three managers since Redknapp left by mutual consent at the end of the 2011/12 campaign. First AVB, then Tim 'nice but dim' Sherwood and now the latest man at the helm, Pochettino.
With all three managers, there are three common denominators to consider:
The playing squad

Daniel Levy, the Chairman of THFC since 2001

Franco Baldini, the Sporting Director
While the likes of Liverpool, Man Utd, Man City and Chelsea have been heavily investing in their playing squad, with massive net spends over the last three-to-four seasons, take a look at the performance of Spurs in the transfer market:
THFC Transfers 1991/1992 - 2014/2015 (data compiled by John Driscoll)
Despite Spurs being listed as the 13th richest football club on the planet (as per Deloitte's 2013/14 data), the net spend is a significant indicator.
Since qualifying for the Champions League in May 2010, Spurs have not made a net spend over the next nine transfer windows, making a net profit of £4.3m. You have to look back as far as the start of the 2009/10 campaign to see Spurs registering a net spend of £3.2m.
At the start of the 2009 campaign, Spurs opened their new state-of-the-art £30m training centre in Enfield. Meanwhile, Spurs had been acquiring the land (and businesses) required to clear the way for the new stadium to be built as part of the Northumberland Development Project (NDP).
Have these two key infrastructure developments restricted Spurs' actions in the transfer market? Possibly.
After Glenn Hoddle was sacked in 2003 and David Pleat was kept in a caretaker manager role while Levy performed a back-to-basics investigation as to the performance of Spurs on and off the pitch, Daniel Levy concluded that there was only one way to run Spurs with a pretty simplistic business model. Buy unproven young players as opposed to proven Premier League performers, develop them and then sell them on for a profit. At the same time, he saw it essential that there was stability in the club. This would come from a Director of Football/Sport who would work with both the Manager/First Team Coach and the Chairman to identify targets and build a stable squad.

In terms of making a profit, Levy cannot be faulted. We have seen the likes of Carrick and Berbatov move on for significant profit and more recently, Modric and Bale have headed to sunnier climes.
However, from a footballing point of view, seeing the likes of Modric and Bale leave White Hart Lane has been pretty galling but even the most ardent supporter would accept that both went on to play for teams worthy of their talents. Its part of the modern game. Unless you have a hugely wealthy Arab or Russian owner, you cant compete with the upper echelons.
Wait a minute. But Spurs do have a rich owner. Joe Lewis. Lewis' total wealth is estimated at $4.2 billion, and he is listed as the 308th richest person on Forbes' List of billionaires (2013). Forbes reports that Lewis is the ninth wealthiest person in the UK. Let's not forget, Spurs did compete with the upper echelons. Qualified for the Champions League twice under Redknapp (albeit second time around, Chelsea winning the trophy put paid to a second campaign in Europe's Premier competition). Spurs played Inter Milan off the park at White Hart Lane on a memorable run to the quarter-finals, taking down AC Milan in the San Siro in the process before being brought down to earth and being taught a lesson by Real Madrid.
The taste of finishing fourth and qualifying for the Champions League has given the supporters a taste of the big time. We want to be playing with the big boys of Europe on a regular basis. We want a team capable of competing with the top clubs in England.
That taste has made the current state of Tottenham Hotspur all the more unpalatable in the last few years.
The team is dire and shows no desire. The players dont play for the club. They play for themselves. If they have a bad game, they dont care. They just go home and share a picture of their new Ferrari on Instagram or of them taking another selfie in a restaurant where most of us wouldnt be able to afford to eat the starter let alone have dinner.
You only have to listen to the sound bites of Pochettino coming out of White Hart Lane. Firstly he needed time to instill a winning mentality (now come on, these guys are footballers. Surely they have some pride? How hard is it not to have a winning mentality?) Next, we see he's blaming the pitch (see the Guardian article here). I kid you not.
Have we heard the same from Ronald Koeman at Southampton? No. Despite having the heart and soul ripped out of St Mary's in the summer, the Saints are absolutely flying. West Ham are too, despite integrating a large number of recruits in the summer.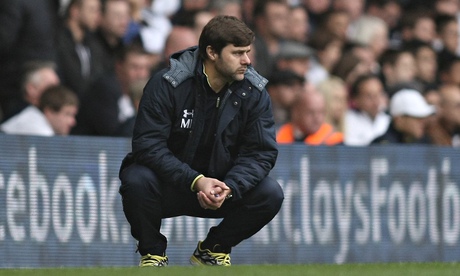 Pochettino in AVB pose...
This week I heard Pochettino described as the Argentinian George Graham. Yes, thats just about how exciting Spurs are to watch these days. Plenty of no cutting-edge possession, no attacking thrust and guile and absolutely hopeless at the back.
To me, Pochettino is out of his depth. The similarities to AVB before him are striking. We're nearing the middle of November and despite being in post since June, he still doesnt know his best starting XI. Granted the two Kyle's (Walker and Naughton have been injured and Dier has been found out at right back), but Pochettino has yet to settle on his first choice centre-back pairing. Despite Kaboul and Vertonghen looking assured aside each other in the Arsenal and Southampton games, what on earth was he thinking in giving Fazio his Premier League debut against Man City? There is absolutely no logical sense to that decision whatsoever.
Kane scoring a hat-trick in the Europa League and then not starting the next game? The Lamela-Eriksen-Chadli axis not firing on any cylinder in the league, let alone all cylinders. Surely something has to change.
Questions certainly have to be asked of Baldini & Levy.
Look at the signings Spurs made in the summer. Vorm, Davies, Dier, Fazio, Yedlin and Stambouli. Not one of them has made any real impression on the Premier League. Not one.
Lets go back to the 2011/12 season, when Spurs were 10 points clear of Ars*nal in 3rd place in the league. Perfect time to go out and get some reinforcements? Surely we could rely on Levy to invest some money and common sense? No. We got Louis Saha and Ryan friggin' Nelsen.
Yet again, the Spurs fans are facing yet another transitional season. Excuse after excuse.
There are rumblings in the background. The customer base is disgruntled and the natives are restless. Of course, it would be absolutely ridiculous to sack Pochettino after only 11 games but the fact it is even being discussed in the forums as a possibility just goes to show how dysfunctional Tottenham Hotspur as a football club has become.
Enough is enough. Its about managing expectations.

As much as I would like to see it, I will never see Spurs win the league in my lifetime. Its highly unlikely I will see Spurs qualify for the Champions League in the foreseeable future. Spurs cannot compete with the top 4. The way things are going, if the new stadium doesnt get built, we're in severe danger of being overtaken by West Ham.
Let's be very clear about one thing. If Spurs keep their current form, then we'll be looking down the barrel of a relegation dog fight.
Levy and ENIC saved us from Lord Sugar but perhaps they really have taken the club as far as they can now. Levy personally should be held to account for not backing his managers in the transfer market. Redknapp, AVB and now Pochettino. Back at the start of last season Garth Crooks described Spurs selling Bale and buying 7 players as "selling Elvis and buying The Beatles". It hasnt quite worked out like that, has it? AVB didnt get the players he wanted and nor now has Pochettino. He wanted Morgan Schneiderlin and ended up getting Benjamin Stambouli. Not one of the players bought in the last transfer window has made any impression on the first team. Having said that, thats being quite unfair on Fazio. He's quickly challenging Ramon Vega as the worst centre-half ever to have played for Spurs.
Daniel Levy should be held accountable...
I'd take winning a trophy, whether it be the League Cup, the FA Cup or even the Europa League over 4th place in the PL.
Football should be about glory, not profit.
Seriously, how the hell do you solve a problem like Tottenham Hotspur??? I dont think you can.